Before Neil Armstrong took his historic, first steps on the moon, our vision of outer space was shaped by popular culture. Pulp magazines, science fiction books, comic strips, and film, radio and TV serials featured space heroes like Buck Rogers, Flash Gordon, and Tom Corbett Space Cadet, whose daring exploits gave shape to our very first conceptions of the universe beyond. This exhibition, the first of its kind in an American art museum, presents over 100 examples of one of the most interestin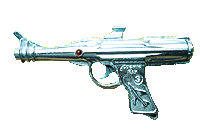 g pop culture representations of outer space—space toys—made between the 1930s and the actual moon landing in 1969, when space travel and exploration still inspired vast leaps of pure imagination.

.
Blast Off! is organized to focus on a variety of key characters, objects, and ideas that have been significant in the popular understanding of outer space. Some sections of the show are devoted to make-believe space actors like Buck Rogers, whose extra-terrestrial escapades in the 1930s first popularized outer space as an arena of amazing human adventure. Other sections of the exhibition focus on fantastic object categories, like robots, ray guns and space helmets, artifacts that have long been involved in our romantic conception of space. Still another section of the show conjures references to space travel itself through an imaginative assortment of rocket ships and other space vehicles, interplanetary target games, and galactic scenes on lunch boxes, album covers and cereal boxes. A further collection of vintage comic books, movie posters, and lobby cards offers other startling visions of alien worlds and interstellar wonders.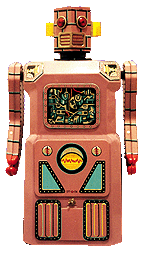 Toys for the show have been drawn from some of the world's most notable collections, and include objects of unsurpassed rarity that have never before been publicly exhibited. There is a significant selection from the collection of Rick Jones, who has amassed one of the largest and most impressive space toy collections in this country. Of particular note from the Jones collection are many examples of some of the earliest space toys made in the 1930s, including one of the first toy rocket ships, the Buck Rogers 25th Century Rocket Ship by Marx, and the original metal toy ray gun, the Buck Rogers XZ-31 Rocket Pistol by Daisy. The Jones collection also contains a Cosmic Ray Gun made by Stevens Co. in the 1950s. One of the rarest and most beautiful toy ray guns ever produced, the Cosmic Ray is a stylishly ornate, shiny chrome cap gun which flashes a beam of light through a ruby-like red glass portal on the side of the barrel when the trigger is pulled. Only two of these guns are known to exist.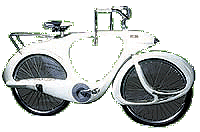 Other remarkable objects in the show include the first space toy ever made, the famous "War of the Worlds" diorama created in 1925 by Frenchman Henri Mignot from the collection of Mark Young. Also on display will be a group of tin robots called the "Gang of Five" from the collection of Tom Brannan. Created in the 1950s by Masudaya, they are among the largest and rarest toy robots ever made. Four of these five impressive and highly prized robots (the Lavender Robot, the Target Robot, the Radicon Robot and the Giant Sonic Robot ) are displayed in the exhibition. A final important object in the exhibition is a beautiful original Bowden Spacelander bicycle from the collection of Justin Pinchot. Originally designed by Benjamin G. Bowden in the late 1940s, this bike is one of only a very few that were manufactured in 1960 in Michigan. The Spacelander is made of fiberglass and it is a stunning example of futuristic, space age design.

This exhibition is organized by the Museum, California Center for the Arts, Escondido, and curated by Dr. Eugene W. Metcalf, Jr., a scholar in the fields of American art and material culture at Miami University in Ohio. Metcalf is also an avid collector of space toys, and the co-author of the book Ray Gun (Fotofolio, 1999). In addit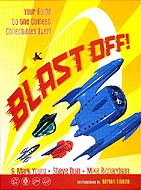 ion, Metcalf is also currently working on a book on space toys and their role in the popular imaging of outer space.

"Before outer space could be explored or even contemplated," writes Dr. Metcalf, "it had to be imagined. In this view, space toys and games are particularly meaningful artifacts because they visualize the idea of space travel and exploration in inventive, often fantastical ways. They also encode many important social meanings and ideas – the changing nature of technology, the realms of work, play, fantasy, and reality and even our evolving vision of childhood itself."

A 256-page companion volume to the exhibition, Blast Off! Rockets, Robots, Ray Guns and Rarities from The Golden Age of Space Toys, will be published by Dark Horse Comics, Inc. in September 2001. The authors are S. Mark Young, Steve Duin and Mike Richardson, with an introduction by award-winning author, futurist and commentator Harlan Ellison. $34.95 cloth.