Ray Gun Art
The images presented in this exhibition showcase art featuring ray guns by contemporary artists. In addition to the images featured here, other ray gun art is presented on the website of Kurogawa Gallery. After looking at these images, click to go see the rest of the exhibition.
Click thumbnails for larger view.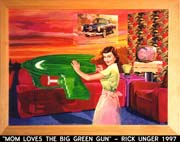 "Mom Loves the Big Green Gun" by Rick Unger
Unger began to paint in a semi-surrealistic style in the late sixties. After studying at a number of different universities and receiving a variety of art degrees, he became an art teacher and then a professional musician. In the last few years he has returned to the easel, and he was included, last summer, as an exhibiting artist in the "Festival ofthe Arts" in Laguna Beach, California, where he now resides. The work exhibited at the Festival included "Mom Loves the Big Green Gun." The raygun pictured in "Mom" was the first toy raygun in the artists collection of rayguns which has now grown to several dozen classic rayguns. "Mom Loves the Big Green Gun" and other paintings are available in 24"x32" limited edition Iris prints. For information about purchasing these works, or about where to view the artist's new work, email him.
"Peace Dividend" by Paul Mavrides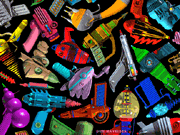 Paul Mavrides' critique-laden comics, cartoons, paintings, graphics, performances and writings encompass a disturbing, yet humorous, catalog of the social ills and shortcomings of human civilization, exposing, exploring and exploiting the edge between truth and propaganda. He is best known for his bludgeon-like proselytizing on behalf of J.R. "Bob" Dobbs' SubGenius Foundation, art and writing for Gilbert Shelton's Fabulous Furry Freak Brothers comic book series, and caustic black velvet paintings delineating various modern social and political disasters. The artists work is available from:
Words & Pictures Museum
140 Main St.
Northampton, MA 01060
[413] 586-8545
Fax [413] 586-9855
Email: comics@wordsandpictures.org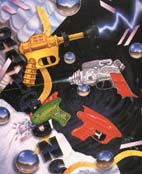 "Rayguns" by Mark Nagata.
Mark Nagata has been a free-lance illustrator for seven years. He attended the Academy of Art in San Francisco and specializes in realistic airbrush paintings. Some of his many commercial clients include DC Comics, Scholastic Books (Goosebumps), Bantam Books (Graveyard School), and Schlage Lock Company. In his spare time, Mark collects ray guns and Ultraman dolls. To see more of his artwork and collections, go to his web site or e-mail Mark at mnagata@ix.netcom.com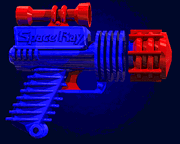 "Space Ray" by Kurogawa
Kurogawa ( a.k.a. Scott Allan Ross) was born in Chicago, IL. After graduating from Drake University with a BFA in Graphic Arts, he served in the U.S. Army as as illustrator at the Army Intelligence School, Ft. Holabird, MD and in Psychological Operations on Okinawa. Returning to Drake, he earned a Master of Fine Arts in Sculpture. He is a freelance graphic designer, sculptor, banjo player, and costumer, having won numerous awards as a Master Costumer at various SF Conventions, most recently Best Master and Best Workmanship at LonestarCon 2. He is currently living in Des Moines, IA. Kurogawa's art can be viewed at his gallery.
"Man or Astroman?" by Don Vigeant
Don Vigeant is a San Francisco bay-area based illustrator/photographer/writer who, along with his girlfriend, has a serious vintage space toy addiction! Much of his work is sci-fi related and has recently meshed well with the space-surf themed, musical sensations" Man or Astro-Man?" Additionally, the artist's quirky Christmas cards have been sucessfully marketed in California for a number of seasons, and he will happily send a sample pack to anyone who is intrigued...
The artist can be contacted at: raygun_equipped@rocketmail.com or via snail mail at:
Don Vigeant, LTD
1875 S. Bascom Avenue
Suite 116-151
Cambpell, CA 95008

Untitled Ray Gun by John Lovitt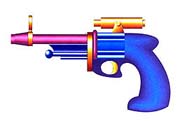 Graphic artist and designer, John Lovitt has created over 100 images of firearms. Many are of actual weapons, while others, like this one, depict fantasy creations. John's images are available as prints and on CDs in various formats. John can be contacted at 276 Tech Way, Box #5, Grants Pass, Oregon, 97526. His phone is 541-476-3409. See John's work on the web.
Click here to see the next page of this exhibition.