Recycling the Future: The Ray Gun and Robot Sculpture of Clayton Bailey
Like many artists, sculptor Clayton Bailey has long been an admirer of space toys. Frequenting local swap meets and flea markets, he has amassed a large collection of robots and ray guns, which have, in the last two decades, significantly influenced his art. Although robot and ray gun sculpture is only a part of Bailey's body of work, it is an aspect of his creative output that has brought him international attention, and which highlights the remarkable aesthetic qualities of these sculptural toys. Bailey taught sculpture for many years at the University of Wisconsin and then at California State University at Hayward. His art has been presented in scores of solo and group exhibitions around the world and is to be found in many public and private collections.
Robots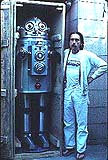 Clayton Bailey made his first robot in 1976. Called The On-Off Robot, it stood about six feet tall and was built as a costume which the artist wore to entice passersby into his Museum of Ceramic Wonders. When the film "Star Wars".opened in San Francisco, Bailey wore the robot costume to the opening, and it was such a hit that he got into the movie free. Since that time, Bailey has constructed over fifty life-size robots. Made of materials found in scrap metal yards, flea markets and the trash, these buzzing, blinking and throbbing contraptions have appeared in exhibitions all over the world. Often stand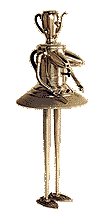 ing about six feet tall and incorporating old radios, juke boxes and various working dials and gizmos, these sculptures satirize the technology that created them.
One of Bailey's best known robots is Marilyn Monrobot.Created in 1997 of reclaimed kitchenware, auto parts, baseball bats and other outworn materials, she is called by the artist "the world's most beautiful robot," and features hugh coffee pot breasts and blinking rubber nipples. Exhibited in a show at the Lawrence Hall of Science at the University of California, Berkeley, the sculpture created a scandal and was thrown out of the exhibition because of its sexual suggestiveness. Reported in newspapers ranging from the National Enquirer to the Los Angeles Times, this event caused a national uproar. According to Los Angeles Times art critic William Wilson, the statue was "estimably tasteless," although other critics found her to be humorous and sensual.
The same year Bailey made Marilyn, he also created Sparky Robot and Starbot Robot.. The first of these, Sparky, incorporates blinking eyes, a throbbing head, electrical meters that whir and jump, as well as a high voltage vapor-powered digestive tract which can be seen in the robot's chest. The second robot, Starbot, is made of an AM/FM radio and stereo tape deck which serenade its viewers. A few of Bailey's other robot creations include Futura Robot (1985), made with a Jukebox and tapedeck, and Robug (1980), a huge metal bug with flapping wings which sits in the garden to scare away birds.
Yet Bailey's world of robots is filled with even more robot-like creatures. A large sculpture called Rocket Man sits on the roof above his house, and each night the artist lights its internal engine so that it can spew red exhaust flames into the night air. In addition, Bailey has made a Robot Teapot of porcelain which, he claims, brews a perfect pot of tea, as well as a Robot Light Switch..
Ray Guns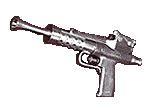 Bailey began making sculptural ray guns in 1996, and like his robots, these sculptures were fashioned primarily from found materials. In Bailey's hands, old bicycle parts, broken electric drills, discarded ski poles and rusty faucet handles are transformed into sleek and fanciful futuristic-looking firearms. The most remarkable thing about Bailey's ray gun sculpture is that it transforms still recognizable objects of the mundane and everyday world into new and fantastic creations. Bailey's ray gun sculpture includes:

Ray Gun Sculpture
Ray Gun #1 (made from a small vacuum cleaner and a drill)
Ray Gun #2 (made from a skin divers spear and bicycle brake)

Ray Gun #3 (made from a timing light)
Ray Gun #4 (made from a spray gun and toilet float)
Ray Gun #5 (made from a paint sprayer)
Ray Gun #6 (made from a sandblaster and a camera body)
Ray Gun #7 (top) & #8 (bottom) (made from a carpet sweeper handle and a skin diving spear)
In recent years, Bailey has made working ray guns, most of which shoot corks and bits of potato. Bailey prefers these to his early, nonfunctional guns because they are more fun to play with. Like his earlier ray guns, the cork and potato shooting ray guns are also made primarily of found materials. Some of these guns include:
Cork Shooting Ray Guns
Ray Gun #8 (made from a brass bedpost, a ski pole strap and a bicycle handle grip)
Ray Gun #9 (made from a vacuum cleaner and a pair of scissors)
Ray Gun #10 (made from a faucet handle and a ski pole)
Ray Gun #11 (made from an old spray paint can)

Potato Shooting Ray Guns


Ray Gun #12
Ray Gun #13
Ray Gun #14
Ray Gun #15

Each of Clayton Bailey's ray guns is created individually, and all are signed and numbered by the artist. To see more of Bailey's art and to ask about prices, visit his website or email him..