Jeff has been working in hot glass since 1979. Trained at Pilchuck Glass School, Sheridan College, and in a number of different workshops, Jeff has concentrated on the making of stemware since 1988, although he also crafts. and collects a wide vatiety of other kinds of glass objects. Jeff currently works out of Andrighetti Glassworks in Vancouver. Characterized by other glassblowers as "a glassblower's glassblower," the artist possesses a singlar style, and his work has won numerous awards, been featured in many solo shows, and appeared often in magazines.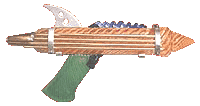 Among his most unique glass creations are what Jeff calls his "ray gunz." Influenced, in part, by a large rocket ship that stands in the middle of his town and also by the legion of B science fiction movies he saw as a kid, Jeff has fabricated a body of work that resonates with the whimsy and fantasy which marks sci fi adventure. At this point, Jeff has made over 400 "ray gunz" which are in many prominent collections across Canada and the United States.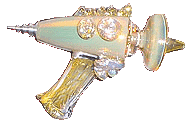 The process for making these incredible sculptures is an intricate one. According to the artist, "What I have to do is first pick up a transparent color on the pipe and gather clear glass on top of that. This is blown out and shaped to the desired form. Next colored bits are added. Once I get the bits on, I put on the handle and then the trigger." The newly shaped glass ray gun is then cooled down over a fifteen hour cycle, and since the temperatue of the glass is about 2000 degrees after being blown, it's not something you want to touch. Following this, the end of the gun is ground to fit a stainless steel end cap, and then the sculpture is silvered by pouring a solution of silver nitrate, amonia and distilled water into the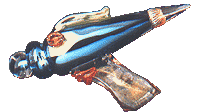 open end of the gun. According to Jeff, "since the gun is a bubble with a transparent color on the inside, the silver sticks to the inside of the piece just like a mirror in the bathroom." The last step is bonding a stainless steel end to the piece and then the gun is signed, carefully packed, and shipped.
Jeff's guns appeal to a wide clientelle and those who have purchased them range from art collectors to NASA engineers. Retailing for between $400 and $600, Jeff's creations are no more expensive than a decent toy ray gun, and each of Jeff's gunz is a signed, one-of-a-kind original that comes with an individually crafted stand. Jeff will have an exhibition of his "ray gunz" next October at the Richmont Art Gallery in British Columbia.
If you would like to see more of Jeff's ray gunz or his other work hop on over to his website, or if you have a question drop him an email.