Ray Guns and the American Imagination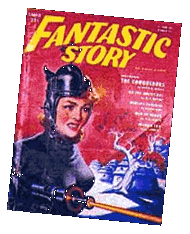 There are few cultures in the world where fire arms are as important as they are in the United States. Not only do more people own and use guns in America, they actually believe in them. Guns are popularly believed to represent freedom, individuality, and even the ability to maintain the peace. They are associated with the development of national history, destiny and character. In addition, Americans link guns with exploration, and it is for these reasons that when we imagine ourselves in outer space, we imagine a gun in our hand.
The archetypical American exploration was the exploration of the American West, a colonialist enterprise which attempted to justify expansionist politics as the "march of civilization" a march which many in the United States have too often believed it was their right and destiny to undertake.
Building on the mythic idea of the conquest of the American West, early views of American space exploration were conceived in terms of the exploration of a "frontier" and even Manifest Destiny. Space explorers were thought of as intergalactic cowboys whose job was to bring order and justice, and to subdue the forces of chaos and alien darkness so that "civilization" might prevail. To do this they needed to carry intergalactic "peacemakers." But unlike the pearl-handled western six-shooters used by Tom Mix and Roy Rogers, which were modeled on real, historical sidearms, the ray guns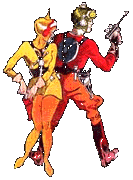 used by Buck Rogers and Flash Gordon were based only on fantasy and wish fulfillment. After all, battling despots such as "Ming the Merciless" or thwarting alien threats from the"Mongol" invaders was a struggle for the "forces of good" a struggle Americans have historically believed it is their destiny to champion.
So while ray guns may have little to do with the reality of space exploration, they have a lot to do with the expression and exploration of the American self. From the time of their invention, toy space guns have not only helped American imagine and express themselves, they have helped create popular support for the American space program, the great adventure of the twentieth century which has been more responsible than any other enterprise for the conception and assertion of modern American identity

The "Masterblaster" passes the torch...
Hello! My name is Justin Pinchot. As one of the galaxy's greatest authorities on toy ray guns, Gene Metcalf created www.toyraygun.com in 1997. His collection of ray guns is one of the most comprehensive ever amassed, and his book Ray Gun remains an important reference in the field. But Gene is no longer able to maintain the site and felt it was time to pass the torch, and has graciously handed it off to me.
Gene intended this website to be a place to gather, store, and share information about toy ray guns. He said,
"There isn't a lot known about these toys. Only a few are pictured in books and articles, and even for those that are illustrated, the makers and dates of manufacture are sometimes unknown. Not only is little known about these toy guns themselves, but no one has ever really thought much about what they mean. For example, why have these guns, and the characters associated with them like Buck Rogers, been so popular? What larger ideas, values and social relationships do these toys symbolize and promote? How are toy space guns related to the development of the popular understanding of space and space travel?"
To this day www.toyraygun.com remains an important and extensive archive of photos and information. So who is this Justin Pinchot that Gene has entrusted with his labor of love? And what plans does he have for ToyRayGun.com? Well let me tell you a little about myself. I live in southern California, and started my love affair with collectibles at 6 years old with toy trains. I have always loved Art Deco, and over the years have collected such things as vintage wrist watches, 1930s - 50s balloon tire bicycles, streamlined vintage microphones and radios, and 1930s clocks, both neon and Art Deco, among many other things. Then one day in 1990, a friend showed me a rusted ray gun he found at a local thrift store. It was a 1930s Buck Rogers Atomic Disintegrator pistol! I was instantly drawn to it… it was so Art Deco! Before I knew it, I had an extensive collection of early ray guns. Then one day someone gave me a Japanese tin toy robot, and that was my undoing! I have since amassed a collection of over 60 robots, dozens of ray guns, and numerous related items including tin rockets, space cars, space flashlights and even space related banks and cigarette lighters. No matter what I collect though, ray guns are always very close to my heart.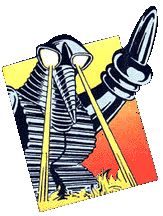 I met Gene Metcalf through our mutual friend Mark Young when Mark was writing a wonderful book on space toy collecting called "Blast Off!". Mark wanted to use items from my collection for his book, and as Gene was curating the Museum show associated with it at The California Center For The Arts in Escondido, he asked me to loan the museum some pieces, and we've been friends ever since.
At first I thought I would simply maintain Gene's site as an archive and meeting place for ray gun enthusiasts. But after visiting the site, many people asked where they could buy the ray guns they saw there, then it hit me… I have long bought and sold vintage robots, ray guns and space toys to help further my own collecting, and the collections of others, so why not create a new part of the site, and offer the wonderful pieces I sell at toys shows and privately to a wider audience? So while I plan to keep the site that Gene built basically the same, I have created a new section with vintage robots, rockets, ray guns and space toys for sale! I will offer the highest quality vintage space toys and robots I can find at competitive prices. I also plan on offering collectors the opportunity to consign items for sale on the site. And as I am an incurable collector, please let me know if you would like to sell or trade any toy ray guns, robots, space toys, or space related items!
I hope this website will continue to bring those of us interested in toy ray guns together. And I hope the new vintage Robots and Space Toys for Sale section will fill a void and offer fresh merchandise to the hobby. I hope visitors to the site will continue to contribute photos and information on ray guns, and I welcome you all to the new section.... don't be shy, come on in and look around! Just click on the sky blue "FOR SALE" banner on the main page. Please feel free to email me any time with comments, questions, or space toys for sale, trade, or consignment.
I would like to thank Gene Metcalf for giving me this incredible opportunity, and Rene Flores for doing such a wonderful job building the new 'for sale' section. Many others have helped in the building of the original site, most notably George Newcomb, Leslie Singer, and Jim Fox, (web designer at Red Five.)
Thanks also go out to some of the people who contributed photos used on the ray gun section of the site: Charlie Smith, Brian Hayes, Ian Kill, John Eaton, Karen Del Pellegrino, Leslie Singer, Don Vigeant, Patrick Bishop, Ray Rohr, Debby and Marty Krim, Chuck Lassen, Michael Schneider, Dale Fabrigar, Richard Thomas, Dennis Merritt, Fred Boreale, and Ed Pippin. Finally, the site would not be possible without ray gun fans worldwide ­ THANK YOU ALL!