The Remarkable Toy Ray Guns
of Pyro Plastics
Like many companies which made plastic toys in the 1940s, 50s and 60s, Pyro Plastics Corp. of Union, New Jersey,was primarily a custom plastics molder and only made toys as a sideline. Beginnng in the late 1940s with the manufacture of plastic clicker type pistols, Pyro turned, in the early 1950s, to the manufacture of militry toys, becoming the leading maker of toy military hardware during the Korean War. Shortly afterward, with the development of interest in space, Pyro turned to making space toys, creating what many collectors consider to be the best designed spaceships of the period.
PYRO X-400 SPACE EXPLORER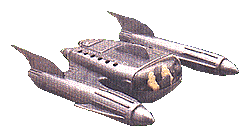 In addition to its many spaceships, space vehicles, and space figures, Pyro also made some remarkable space guns. The best known of these toys is the Pyrotomic Disintegrator. Breathtakingly beautiful with its bulging, ringed barrel and fluid, sculptural; body, this toy gun is thought by many to be one of the most exceptional plastic rayguns ever produced. It is remarkably rare, and only a few examples are known to exist.
PYROTOMIC DISINTEGRATOR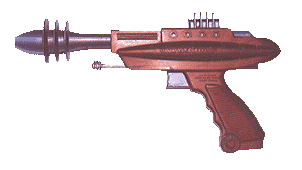 Recently, a second, and previously unknown, Pyro toy ray gun was discovered. As stunning as the Pyrotomic Disintegrator, this rifle shows a strong family resemblance. In addition to being among the rarest of all space rifles, the Pyrotomic Disintegrator Rifle is perhaps the most beautiful. Powerfully sculpted with a fluted barrel and an undulating stock, this wonderfully designed toy exudes a sense of delicacy and techno-scientific power, whimsicality and authority. Only 20 inches long, the rifle is "fired" by turning a rotating crank on the side of the stock which causes the barrel to move in and out.
PYROTOMIC DISINTEGRATOR RIFLE