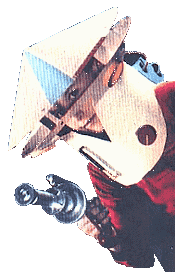 A HELMET MADE OF PAPER
AND A RAY GUN MADE OF
A CANDLESTICK
"Flight-Tested SpaceHelmets
You Can Make Yourself!"
Space adventure burst like a crashing meteor on popular consciousness in the 1950s. From toys to wallpaper and furniture to automobiles, images of space and space travel were everywhere. By the early 50s the cowboy was eclipsed by the spaceman as the symbol of daring and adventure, and tales of space exploration were common fare in popular magazines, movies, and television. Instead of wearing cowboy hats and pretending to be Roy Rogers, children now doned space helmets, brandished rayguns, and imagined themselves to be Captain Video, Tom Corbett, or Buzz Cory jetting through the endless expanse of space.
The popular excitement with space and its heroes is wonderfully exemplified in an article featured in an August 1953 edition of Woman's Day magazine, published by A&P stores. Called "Flight-Tested Space Helmets You can Make Yourself," this article presents five marvelous space helmets that kids can make from household odds and ends, and supplies directions for making the helmets. Said to have been "flight-tested by famous spacemen," these helmets flaunt the gee-whiz fantasy and whimsical enthusiasm that characterized space adventure in the 1950s.l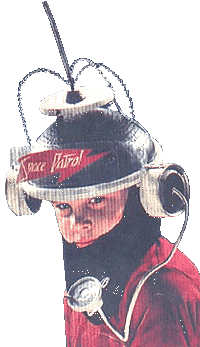 SPACE PATROL
DESERT CRASH HELMET

This helmet is made by combining a colander, a corset stay, a plastic cheesebox, a spring, a spool, rubber tubing, some angle irons, clothesline, felt, a faucet spray, wire, bolts and a paper clip.
Space Patrol Helmets
"Off in the Space Patrol Experimental Laboratory, Commander Buzz Corry and his comrades have developed new equipment - a Desert Crash Helmet and a Guard Helmet. They'll be on the Space Patrol Shows, August 1 over ABC Radio and TV networks. For down-to-earth wear we present these discoveries in cosmic headgear."
With this statement, two wonderful make-it-yourself helmets are presented. Although both are to be constructed from objects found around the home, children are encouraged to make these helmets "official" by cutting out, and attaching to them, a cardboard Space Patrol insignia supplied in the magazine.

| | | |
| --- | --- | --- |
| Instructions for making the Space Patrol Desert Crash Helmet | | |

SPACE PATROL
GUARD HELMET

This helmet is made of cardboard, a paper plate, mailing tubes, rubber tubing, clothesline, wood strips, a plastic cheesebox and various fasteners.
| | | |
| --- | --- | --- |
| | | Instructions for making the Space Patrol Guard Helmet |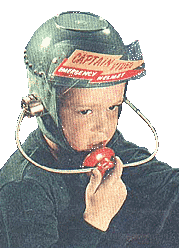 CAPTAIN VIDEO
EMERGENCY HELMET #1

This helmet is made of a plastic bowl, acetate, cotton fabric, sink drains, a faucet spray, safety pins and bias binding.
Captain Video Helmets
"Captain Video spacemen helped make the very helmets pictured here. Straight from the rocket ship Galaxy come these authentic designs. Earthlings who want to play along with the Video Rangers on their travels in space can don either of these two Emergency Helmets. They're just like the space equipment worn on the Captain Video TV show."
As with the Space Patrol Helmets, children were given instructions about how to make the Captain Video Helmet from everyday household objects. Children then became official members of Captain Video's crew by cutting out and attaching the Captain Video cardboard insignia.

| | | |
| --- | --- | --- |
| Instructions for making the Captain Video Emergency Helmet #1 | | |
CAPTAIN VIDEO
EMERGENCY HELMET #2
| | |
| --- | --- |
| | Instructions for making the Captain Video Emergency Helmet #2 |

Chuck Lassen and His
Captain Video Hellmet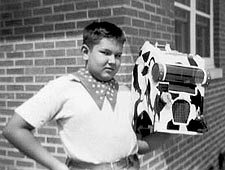 Yes indeed, kids really did follow the directions of this article to build space helmets. Here is a picture of Cadet Chuck Lassen in 1953 with a Captain Video Helmet that he made by following the directions to create his very own Captain Video Emergency Helmet. (Thanks for sending me the photo Chuck!)
(The article "Flight Tested Space Helmets" was sent to me by George Newcomb of Plymouth Rock Toy Company. Thanks George!)